Reading Time: 4 Min
Reading Time: 4 Min
Last Updated on July 9, 2022 by Andwah Banamzena Emmanuel
How Can A Beginner Promote Music
How can a beginner promote Music a questions asked by so many novice artistes, or should I use amateur artistes? Well anyone can go. This article is all about knowing a few but undisputed ways to promote your music especially as a beginner
How can a Beginner promote music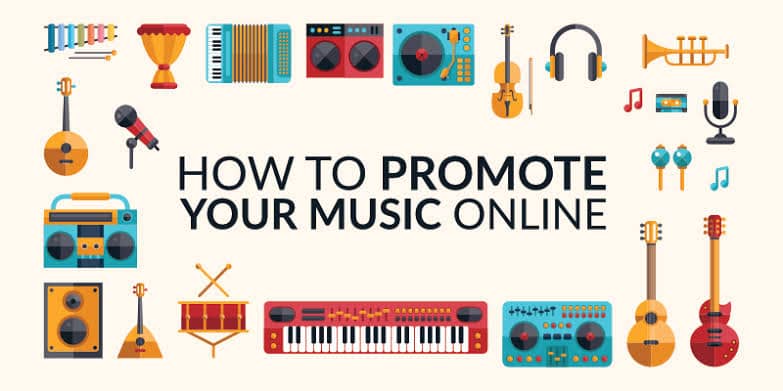 There are more than 20 ways one can promote his music, but we are just going to look at some probably just a few amongst the many.
You must be active on social media

You must be active on social mediato be able to create a solid fan base that you'll share your music with, create active pages on Instagram, tiktok, twitter Facebook and other platforms where fans can reach you and your content. You can share your latest news there, reach out also to your fans.
Rom there you can be able to know what your fans want you to give them, what they expect from you etc.
Lyric Video
Inasmuch as you are a beginner people need to understand your words, not everybody's just interested in listening to the beat or dancing to the tune without proper knowledge of the word, most people need to know the massage you are passing through, so you need to create a lyric video.
Create recognizable artwork
One thing that you should never skip is your artwork, from the featured image, to the cover art, do the lyrics video, you need a recognisable artwork, one that is unique and can be traced to you. You should put on a desire ably attractive design that is capable of drawing attention.
Debut the song at a show before it's released
Now when beginners see this, they get scared off, or scared away, but you need to debut the song at a show, a live performance to get people looking for the music, to keep people in anticipation, to keep people wondering where "this song came from"
Give the song to your super fans early via text
Now there are people who are following you, perhaps your friends, family, peers, people who encourage or admire your work. Now what you do is make this music available to this group of people, by sending it to them via text. This people will also go a long way in spreading the music and also keeping some of their friends in anticipation thus adding to your audience.
Moving visualizer with the artwork (should never be static)
You see there's a kind of artwork that is common recently, you cartoon characters in a video that it's actions go hand in hand with your music. Of course you'll create the video and merge it with the audio, not pictures and what have you, it should be a moving visualizer, you can also get a short clip, perhaps your music is an emotional or motivational one, put it as a background audio in the clip.
This is an example of a visualiser, many artistes popular or amateurs use this kind of artwork and it increases their fan base
Get YouTube promoter channels to post it
For those of you that don't mind putting extra cash into project, here is a jackpot. You get a YouTube promoter channel to post your music, by so doing a lot of people will come across it. If your music is a nice one it will increase your fan base and undoubtedly your popularity.
Shoot a music video
Shooting a music video is also a nice step, but your video must be captivating.
How do I attract Fans to My music

How do I attract Fans to My music is also a question that troubles most amateurs, we creating a fan Base is not a easy task, but when you are willing to put in hard work and resources it will come in a shorter time, also there are some ways in which you can attract Fans to your music
Promote your Music

There are various promotion methods Including the ones I listed above, this will go a long way in attracting new fans and updating existing fans thus retaining them.
EDloaded is also a website that promotes music
Hosting shows and doing giveaways

Hosting shows and doing giveaways is another way you can attract fans, when you host shows and make some giveaways others would love to participate, when you gift someone a valuable article that person will go on spreading and promoting your tracks automatically, thereby making people to listen to your music. When you create a show there must be other people who are not really your fans, now your music is capable of making them follow you if it's good.
Creating Good Music

This is last here because it's very important, it's incumbent upon the artiste to make sure that he doesn't sing trash, because nobody wants to listen to trash. So when you follow all this procedures and still make a trash song, your efforts are as good as waste.

Where should I post My music as a beginner

Where should I post My music as a beginner suppose to be your next question. In line with your promotion plans you should know that where you post your music is very important, you can't be a beginner who is looking to grow and still try to post your music in some forsaken or seldom visited platforms. You should look for one or many of the thousands of popular music platforms like soundcloud, boomplay, audiomack etc. that get over billions or millions of stream daily to listen to your music in this way your song is also going to be popular and your fans increased.

There are some people who want to promote their music with zero budget, well its possible but will take longer and will require hard work. It's going to be a sole work will is definitely exhausting but its possible.

How do you get people to hear your Music

How do you get people to hear you music? Well it's simple promote it. Put it as background in short clips that will synchronise to the audio, make a lyrics video, pay a YouTube promoter to post it, post the music in play lists, on popular music platforms like soundcloud, boomplay etc.
In Summary as a beginner you promote your music by creating a strong fan base, and how you do that is by seeking means to connect to people and to crown it all be sure to have great music.