Reading Time: 4 Min
Reading Time: 4 Min
Last Updated on August 14, 2022 by Uchenna Orji
How to migrate to MTN CUG Plan 2022.
How to migrate to MTN CUG Plan 2022 is a no excuse topic to talk about, most especially to cooperate workers who will have to communicate with their colleagues from time to time for questions or important issues to be discussed.
In this article, I will be showing you how to migrate MTN CUG plan and any other information you will need to know in detail.
How to migrate to MTN CUG plan
To migrate to the MTN CUG plan is quite simple and easy, one of the very general ways to do that is to:
First, contact your MTN account officer( if any) and notify him of what you are trying to do.
He should then prepare a letter on your behalf and send it.
But in case of no personal account officer, you can simply write a message on your email to their business email address: mtn.business@mtn.com
And that is all, just compose your short message and send it to the above email address and a CUG code will be sent to you.
About MTN CUG Plan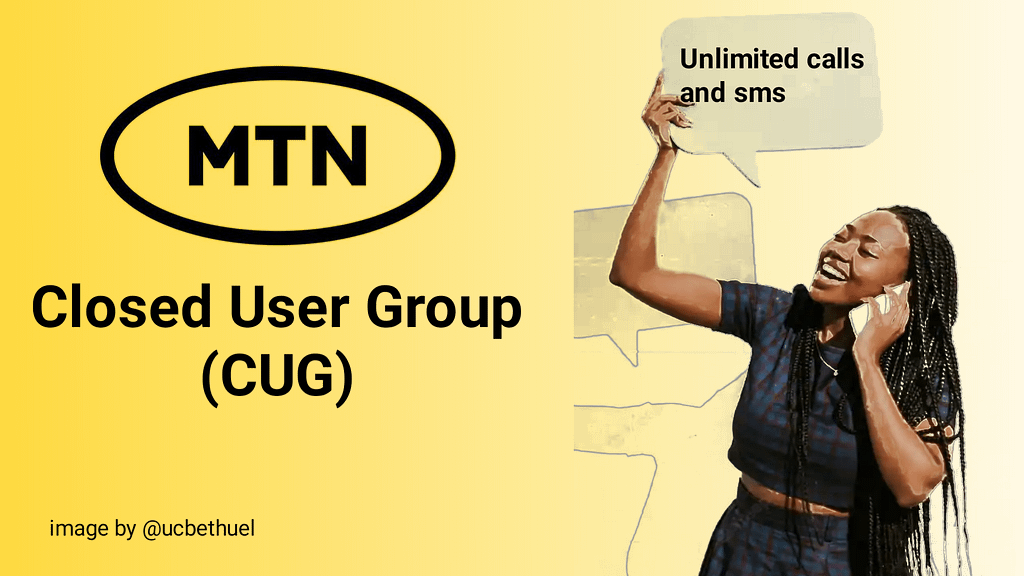 The MTN CUG plan is more like a terrific plan made for cooperation, small, medium or even large enterprises, to ensure unlimited call, SMS or any other communication medium.
One of the major factors that lead to progressive and successful attributes in any cooperative business is communication, and MTN CUG has made it possible for small, medium and large enterprises to effectively and continuously communicate with each other as it those not base on phone credit which is very limited and expensive to maintain.
Perhaps, you might be asking what is this CUG plan for MTN, I will do justice to explain it below
CUG ( CUG an acronym which means Closed User Group) plan for MTN is an extra service option provided by mobile operators (but in this case MTN) and offered to their Subscribers to enable them to call and be called, including sending and receiving SMS to another group/colleague registered by them.
The merit of MTN CUG
It a numerous good, for businesses to adapt to MTN CUG plan irrespective of business size and nature, and this is what I will be discussing subsequently below:
As already known earlier before now, MTN CUG reduces the cost of airtime expenditure, as both employees and employers won't need to worry about their phone credit available balance, whether it is enough to make calls or send SMS to colleagues or not.
Using MTN CUG includes a web-based gateway where you can manage the network of exclusive user groups without any difficulty, i.e allows you to remove or add new users.
Both new and existing users of the MTN network can easily migrate to MTN CUG plan.
When MTN CUG is activated, you can regulate yourself by budgeting how much you should spend on voice each month.
MTN CUG plan has a lot of activation plans which you can choose based on what you can afford at the time.
You can also use the MTN CUG to conveniently send SMS to your colleagues when the need arises.
MTN CUG also offers a cheap call rate (11k/sec) whenever you call someone outside of the CUG plan you subscribed to(irrespective of network).
MTN CUG packages make it more convenient to make calls affordable and profitable.
All calls and SMS made with the MTN CUG plan contacts are free of charge (I.e no extra cost during a call or SMS aside from the one you used in subscribing to it.).
Easily migrate to MTN CUG plan using the user code as provided by your MTN account officer. The code is very important.
When you are sent a message or called by your colleagues with whom you registered, no charges are made in his phone credit.
Colleague's communication is not limited to phone credit or any other limited sources.
Since there is enough communication between colleagues and employers, there is a boost in operational efficiency and cooperative productivity.
Also, it stirs up teamwork among colleagues.
As the MTN CUG plan has a fixed price, it simplifies your budgeting process.
Companies, organizations or individuals who are using MTN CUG experience financial progression and efficiency in work life.
What is required to migrate to the MTN CUG plan
I will be highlighting the necessary things required to migrate to MTN CUG.
Before we get to that, I will like to explore some vital information needed (as gathered) before MTN CUG migration.
Vital Information
One-time activation cost of ₦500 and first subscription of ₦900 per number but subsequent future payments are ₦800 per number.
You must at least register two numbers on the platform, though more numbers can be added as the need may arise.
This offer is available to both individuals and cooperative bodies to save money.
Ensure to follow the guidelines outlined or said to you.
The CUG code is very important
Requirement
You must be an MTN subscriber
You should be conscious of the above vital information
You Should have a Mobile phone(internet-enabled mobile phone Recommended)
You should clear off the decision of migrating to MTN CUG.
MTN CUG Plans
So far, we have been talking about MTN CUG for business and cooperate bodies but there are also other MTN CUG Plans available which are:
FAMILY MTN CUG PLAN : these plans are primary for a group of family members registered in the MTN CUG Plan. This enables family and friends to frequently get in touch with one another without the need to worry about phone calls or sms.
POLICE MTN CUG PLAN: As the name implies, it is meant for security officers employed in an organization, which aids in communication between security personnel among themselves.
MTN CUG FOR TWO PERSON (INDIVIDUAL): this plan enables unlimited communication between you and any other two colleagues or friends or even a group of individuals for unlimited communication.
How to check the MTN CUG plan balance
This is one of the amazing things I love about the MTN CUG Plan. You don't need to cram any new code into an existing one.
If you need to check your MTN CUG plan balance, just dial *556# to the corresponding mobile line.
Well, without is covered so far, it not longer a doubt to use MTN CUG plan for yourself or your company when you want to reduce financial expenses on airtime/SMS or progress your business, neither it is difficult to migrate by just composing a short message and send via mtn.business@mtn.com or ask your MTN account officer for guidance if any.
Though other network operators has there own CUG plan such as Airtel CUG, Glo CUG, 9mobile CUG, etc.
Thanks